Commercial Janitorial
Priority Building Services is a unique service company due to our depth of understanding of our clients' individual needs, and the depth of experience upon which we have built our best practices.
Presenting a clean business environment is paramount to impressing clients and customers and improving morale among your employees. Our expert office cleaning staff will provide your company with a worry- free way of maintaining a professional atmosphere day after day. Whether your company requires daily, weekly or monthly service, we can customize a cleaning program specifically to your needs.
When it comes to security, we understand the concerns of our customers and we work diligently to provide quality services for your company while maintaining the security of your office or facility.
Green Cleaning
What is Green Cleaning
Green Cleaning as the use of products and services that reduce the health and environmental impact compared to similar products and services used for the same purpose. Another definition of Green Cleaning is cleaning to safeguard human health while minimizing the impact to the environment. Its goal is to protect the health of building occupants, visitors and cleaning personnel, as well as reducing polluting effects on our air and water. Unlike traditional cleaning, it goes far beyond simple appearance, focusing on products and services that have fewer adverse health and environmental impacts as compared with others that might be used for the same purpose.
Green Cleaning is more than just using "green" products. The success of a green cleaning program is dependent on numerous other factors. While the selection of products is important, it will have little effect in an otherwise inadequate cleaning regimen that leaves facilities dirty and the health of occupants, visitors and the environment at risk. Green Cleaning encompasses a total program including chemicals, procedures, equipment, paper, liners, mops, and matting, everything used in an effective cleaning program.
The movement toward green cleaning does not imply that traditional methods are inadequate or have created unsafe conditions. Instead it can be viewed as simply taking the next step beyond our current approaches to further reduce polluting impacts while continuing to maintain and improve the healthfulness, comfort and aesthetics of our surroundings.
Why should you we be concerned with Green Cleaning?
The USA comprises about 5% of the worlds population and annually produces 27% of the worlds garbage.
The USA uses 6 billion pounds of chemical products yearly.
The USA uses 4.5 billion pounds of paper products yearly.
The USA uses 35 billion pounds of plastic liners yearly.
The USA disposes of 500 million pounds of cleaning equipment yearly.
The USA disposes of 100 million tons of construction waste yearly.
80% of our time is spent indoors.
EPA rates the indoor environment is potentially 3-5 times more harmful to humans than the outdoor environment.
EPA rates indoor air quality as one of the top 5 health risks.
Two-thirds of commercial buildings are rated as having "sick building syndrome" = $20 billion in worker compensation claims.
There are 100 million lost work days each year due to poor indoor air quality = $100 billion.
These numbers emphasize the immediate need to be concerned about the cleaning process and its effect on the health of the user, occupant, visitor and the indoor and outdoor environment.
Recycling Program
Priority Building Service will assist your company in initiating and maintaining a recycling program.
Floor Care Service
Whether vinyl, marble, ceramic, concrete, stone or linoleum floors, your Priority Building Services floor specialist is fully trained and qualified in all types of floor care. We follow all manufacture, federal, state, local, and organizational safety and cleaning specifications.
Priority Building Services floor services include:
Resilient floor refinishing
Vinyl or Linoleum floor stripping buffing and waxing
Ceramic floor stripping buffing and waxing
Concrete floor stripping buffing and waxing
Machine scrubbing and detailing of floors
High-speed and low-speed spray or dry buffing
Stone & Marble floor cleaning, sealing, restoration
Hard surface ESD wax protection and maintenance
Carpet ESD application and maintenance
Carpet Cleaning – Truck Mounted Steam Cleaning
Carpet Cleaning – Spin Bonnet
Day Porter Service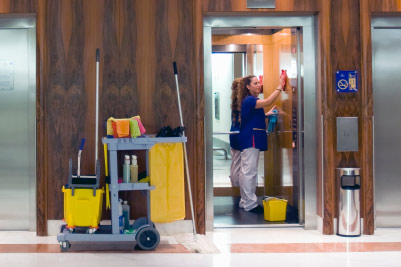 Priority Building Services can provide your business with dependable and experienced day porters and matrons. Our porters and matrons perform a multitude of tasks and will keep your facility spotless, leaving you free to focus on your business and clients. Porters and matrons perform invaluable, time-saving services and give your business a professional touch that cannot be underestimated. From maintaining washrooms to setting up meeting rooms, our hard-working porters and matrons provide a wealth of beneficial services to offices, hotels, institutions and other facilities throughout Southern California.
Priority Building Services Porter and Matron services include the following custodial and related tasks:
Sweeping, mopping, waxing and buffing floors
Emptying, cleaning and relining trash receptacles
Vacuuming and shampooing carpets
Dusting windowsills, overhead lights and resident tables
Cleaning kitchens, food service preparation areas and public elevators
Cleaning public lounges and wiping down furniture
Cleaning public restrooms, bathtubs, showers and replenishing paper towels, soap and toilet paper
Maintaining buildings and keeping grounds free of debris
Transporting trash carts, equipment, supplies and furniture between offices or various building sites
Assisting in the setting-up of tables, chairs and equipment for meeting rooms and special functions
Performing other related custodial duties as required
Exterior Services
Power Washing
Priority Building Services can handle all aspects of cleaning by pressure washing including industrial and commercial. Using our hot water pressure washing treatment, we can keep your driveway, walkways, drive-thru areas and storefronts clean of the following:
Gum
Tar
Paint
Dirt
Bird Dropping
Oil
Grease
Graffiti
Moss
If you have green algae or black mold on concrete, stucco, aggregate, flagstone, gunnite, slumpstone, brick or similar walkway, building, or deck surfaces, it's time to have them Power Washed. Call (877) 508-0770 for a free estimate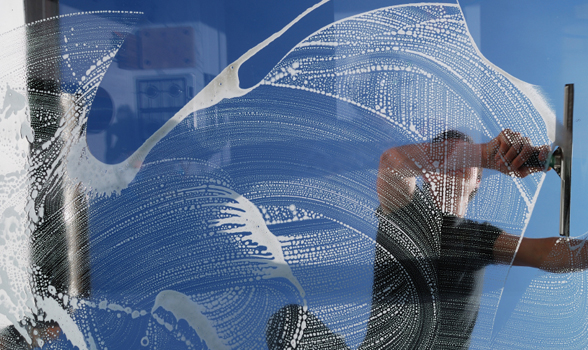 Window Washing
Our commercial window cleaning services run the gamut from window washing to removal of oxidation and more.  We employ several types of commercial window cleaning systems.  Whether you have a small storefront or a high rise, our professional window cleaning experts will leave your windows squeaky clean, streak-free and aesthetically pleasing from both the interior and exterior.
We service buildings of all heights and follow strict safety guidelines, laws and regulations. Our business of professional window cleaners are fully insured, experienced, and specially trained in commercial window cleaning.
Trust your interior and exterior commercial window cleaning of your business's facility to the experts at Priority Building Services. Let Priority Building Services implement a professional window cleaning program for your facility.Call (877) 508-0770 for a free estimate